The South Korean Trade Minister Yoo Myung-hee who was also a contesting for the Director-General position of the World Trade Organisation (WTO) has withdrawn from the race.
This leaves Nigeria's Dr Ngozi Okonjo-Iweala as the only candidate for the job.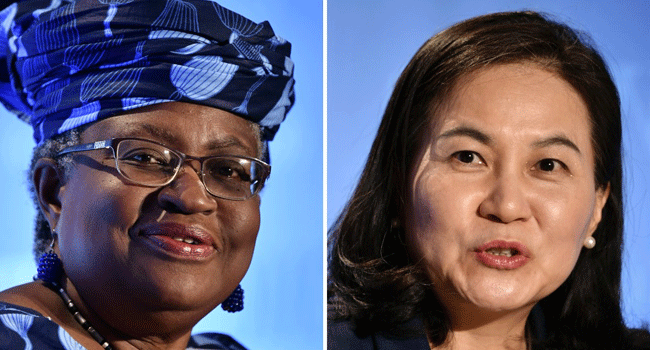 According to Bloomberg, Yoo decided to withdraw after she held discussions with the U.S. and other major nations.
A statement from Korea's trade ministry indicated that Yoo withdrew her candidature after examining issues "comprehensively;" including the need to revitalize the multilateral organization.
Yoo withdrew after some former U.S government officials entreated President Joe Biden to support the election of Dr Ngozi Okonjo-Iweala as Director-General of the World Trade Organization (WTO).
This coming after the erstwhile Trump administration stalled her selection. According to the WTO procedures, the appointment of a WTO boss requires a consensus.
However, they opposed the appointment of the Nigerian. Even though she is the preferred choice of three WTO ambassadors tasked with finding a successor to Azevêdo.
She also has a wide cross-regional backing but the United States supports the other candidate, South Korean Trade Minister Yoo Myung-hee.