In the wake of the $200M+ acquisition of Paystack by Stripe — a deal generally lauded as the deal of the decade — fintech in Africa has become an even hotter part of the venture capital and startup landscape.
While notable startups like Flutterwave and Sendwave were already attractive bets for private investors, Paystack's acquisition serves as an affirmation of the value African fintech startups can create for the continent at large.
In this article, we will be talking about Djamo, a startup on a mission to bring affordable and seamless banking to consumers in Francophone Africa.
According to the CEO, Hassan Bourgi, before Djamo came along, people would need to go to their bank branches and stay in long queues to get their cards or even load them with credit. Noting the unpleasant and frustrating banking experiences he and many other millennials faced in the country, Bougri told TechCrunch that he and his co-founder Régis Bamba saw that challenge as a huge opportunity.
"Since day one, we wanted to design a mobile-first platform that could break into the masses and our combined experience building mass-market consumer products was very critical to launching Djamo. Today, Djamo is providing this audience with a better front end experience and faster customer service."
Djamo is also taking a step further to accommodate multiple layers tailored to different users needs including offering Ivorians the luxury to pay for online services like Amazon, Alibaba, or Netflix, as well as providing VISA debit cards in a timely fashion and allowing customers to use their cards with zero fees in a wide range of services.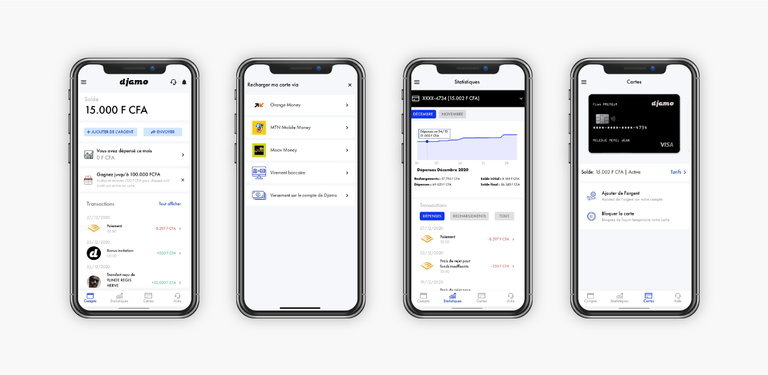 Bougri explained that "it was important for us to offer a zero-fee card with no recurring fee to a certain limit. After that, you pay as you go in transaction fees. There is a premium plan around $4 a month where users can transact to higher limits."
"The objective for our customers is that after registering with us, they get their cards the next day in a timely fashion," he added.
The company's goal of bringing affordable and seamless banking to the underbanked in the region is key to the business having 90,000 registered users and processing over 50,000 transactions monthly.
Money
Djamo has a business model that investors can understand. In June 2019, it raised a pre-seed investment of $350,000 from private investors — arguably the largest round at this stage in the Francophone region. And this year, the startup has also been accepted into YC's current Winter 2021 batch, becoming the first fintech startup from the region to achieve this feat.
What's next
After participating in the three-month program that ends with a demonstration day on March 23, Djamo will also participate in Visa's Fintech Fast Track program, a way for the company to leverage the fintech giant's network to introduce new payment experiences. But given the mechanics of fundraising at Y Combinator today, who wants to bet that Djamo will close more capital ahead of the big day?